So! Yesterday, which was May 14th, I got to thinking: what can I do to avoid writing a speech congratulating a jazz dance troupe for instilling pride of place in our citizens? The answer to that, obviously, is anything. So I took a trip to Internet and asked the residents there whether any well-known people had a May 14th birthday. And Internet obliged, with politicians, actors, artists, scientists - anyone, pretty much, who ever appeared in a who's who. Jim Folson Jr., for example, current Lieutenant Governor of Alabama. Or George Lucas, the necky blow-dried bastard who created my childhood in 1977 and destroyed it in 1999.
If you were to assemble a band from the May 14th Birthday Club, you would have what I regard as the strangest damn ensemble ever committed to the imagination. Here's the lineup:
- David Byrne, polyrhythmic genius of Talking Heads. His secondary job is reaching the leafy fronds on the high branches and chewing the result into a mush suitable for digestion by the young ones.
- Natalie Appleton, singer for anemic pop group All Saints. On her Wikipedia page, the link to the official All Saints page leads to an English clothing store. That tells me all I need to know.
- Jack Bruce, bassist for mighty '70s rockers Cream.
- German composer and conductor Otto Klemperer. He has been dead for thirty-five years, but my imagination will pull his bones out of the grave. Klemperer is noted for his performance of Beethoven's Eroica, which I always thought was called Erotica when I was a kid. Hee hee!
- Walden Robert Cassotto! I mean, Bobby Darin, the chameleonic crooner himself! He brings a slightly seedy class to the proceedings. Rumours persist that he is dead, but his soul has transmigrated to Kevin Spacey.
- Alvin Lucier, experimental composer. He brings the freak.
- Charlie Ray Wiggins, not particularly better known as Raphael Saddiq, co-founder of Tony! Toni! Toné! Here is a video of T!T!T! applying their stylings to It Never Rains In Southern California:
That was awesome. Where were we? I think, just to make things complete, we should include Michael Jackson's ex-wife Debbie Rowe, who can provide guidance and hand claps. And possibly a sample of Michael Jackson's vitiligous sperm.
Did I mention Poison guitarist C.C. DeVille?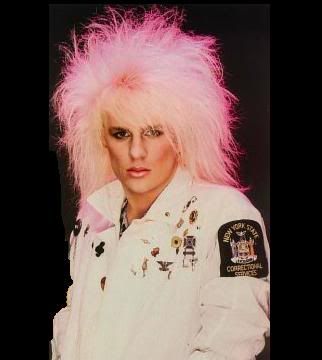 Who would direct the video? Why, Sofia Coppola, of course, who would film a Vaseline-smeared three-way between Cate Blanchett, Amber Tamblyn and Danny Huston.
So what would it sound like? I imagine, with the stern guidance of Otto Klemperer and the contemporary sensibilities of David Byrne and Alvin Lucier, it would be a long, formally structured rock opera with Bobby Darin and Raphael Saddiq crooning about getting several horrendous infections from groupies who showed up for C.C. DeVille. During the intermission, Jack Bruce would entertain in the mezzanine with a round of all-new Jack Bruce material.